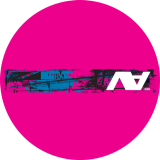 The delectable Chilean mistress Dinky has infiltrated the Vakant Berlin Boys Tec Team (VBBTT). A welcome infusion of sweet freshness has filled the otherwise dank locker room and the boyz will never be the same. Don't be misled, it's not all rosewater and kittens. This girl is packin guns.
Not only does Dinky bring us the next Vakant EP, but an album coming this fall as well, her third. The long road that brought Ms. Iglesias from Chile to NYC to Berlin to a-mega-dance-floor-near-you is happily bumpin along, parked here currently at the Vakant robo trucker park of wonder and her own spot Horizontal.
A side 'She is Moving' features L.A. minimal funk vocalist turned Brooklynite Dawson Bacca a.k.a. Big Bully. Together they attain that vital equilibrium of naughty and nice: synthy klinky funky and soulful -y.
Flip side reveals a funk of a different sort. 'Da 20s' is a dryer pursuit of the bounce, just as motivationally effective but got Sunday summer afternoon written all over it. Can you feel the sun? Mmmmm warm and Dinky.