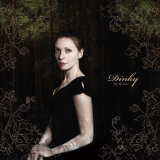 Since infiltrating the formerly all boys Vakant team this summer with her 'Move In' EP (VA020), Dinky has brought with her a welcome infusion of freshness and bloom to the otherwise dank locker room. Now, all nice settled, comes her third album via her new Vakant home. 'May Be Later', like the artist, is the prototypical combination of beauty and brawn.
It's been a long ride to get to this point, one that started in Dinky's native Chile growing up playing piano. Thanks to her musical family, she was exposed to lots of different styles of music whose influence can still be heard today in her production and DJ jet-sets. Dinky experimented with several art forms which brought her first to modern dance and choreography. As a teen, everyone from Brian Eno to Prince shared air time before finding electronic music in the mid-nineties via her sister who was conveniently living in Berlin at the time. Records from Plastikman, Aphex Twin, and Carl Craig were among her first.
Around the same time, lifelong connections were made in the Santiago scene to people like Ricardo Villalobos, Dandy Jack, and Luciano. Not long after and while still a teen, Dinky was sharing stages with those same people. Via the Berlin connection Dinky experienced places like E Werk and Tresor and heard the pioneering sound coming from people like Jeff Mills, Hell, and Stacey Pullen.
In the late nineties Dinky moved from Santiago to New York City to join the Martha Graham School of Contemporary Dance. Naturally, she also got into the NYC scene discovering American House, the evolution of techno, and parties like Body and Soul, NASA raves, and Twilo. Soon, at 23 and armed only with an MPC 2000, her original productions began. Dancing during the day, she was making a name for herself as a DJ by night eventually hosting regular underground parties with Magda until the forced exit.
In 2003 due to post 9-11 visa restrictions, Dinky left NYC for Berlin. It was definitely a good move, thank you Department of Homeland Security. With her new home came chart topping productions, mega club residencies, live performances, and international recognition.
Fast forward 2008. 'May Be Later' bridges sound and mood from the summery and sublime to the dark and throbbing. While 'Mars Cello' floats and warms, 'Burdelia' chugs somewhere between Chicago and early NYC house. 'Fade Me In' zips along with furious kink and dubious vox by Dinky´s longtime friend Jorge González. 'Seven 2 Seven', when aimed at 8am Berlin ravers, massive freak outs ensue. 'She is Moving' features minimal vocalist extraordinaire Big Bully, together they attain that vital equilibrium of naughty and nice. The album closes with 'Mind', an electronic fusion moving, looming, eerie, and reassuring.
'May Be Later' is an open door to Ms. Alejandra Iglesias' development exposing the path, connections, and influences that brought her here. The beach, NYC underground in all its flavors, Berlin, the stage, Detroit, electronic waves from all directions, Chicago, mega-clubs, it's all here and it's all her own.